By plane
Gdansk Lech Walesa airport - Port Lotniczy Gdańsk im. Lecha Wałęsy, is located 16 km west of Gdansk centre in the Rębiechowo district. The modern terminal handles both arrivals and departures.
After landing you enter the terminal building from the baggage hall where you'll find a Gdansk Tourist Organisation information point, car rental desks, ATM machines, as well as exchange offices.
Note: exchange the money to have Polish zlotys (zł) - the official currency in Poland.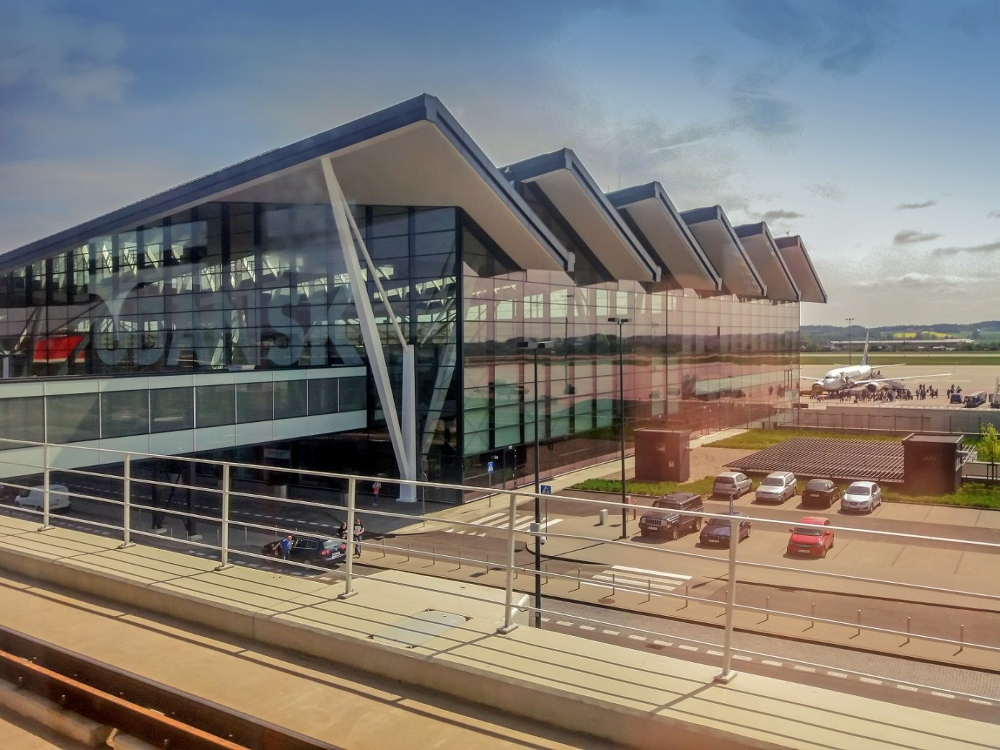 Fot. Gdansk Tourism Organization
Getting to Gdansk from airport
TRAIN
The passengers may get to the City Centre by PKM trains. The trains to Gdansk - Wrzeszcz run every 30 minutes, to Gdansk Główny every hour. You may need to change at Gdansk-Wrzeszcz (note the destination). The journey will take about 30 minutes on a direct train and about 45 minutes if you need to change. Please see: http://rozklad-pkp.pl/en. You can reach the platforms, where you will find ticket machines, by taking the escalator to the left as you leave the baggage hall.
1 hour ticket - 3.80zł (1 EUR). Note: validate the ticket before the journey in yellow machine (see picture below).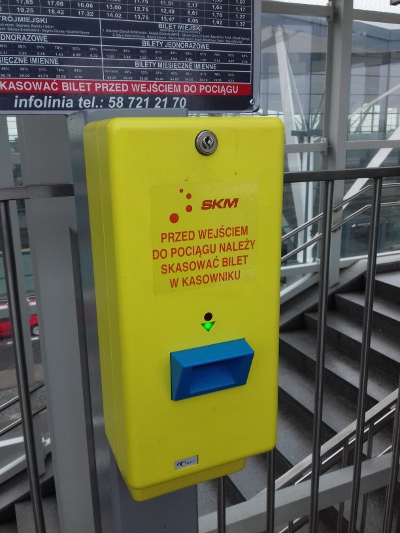 Gdańsk –Wrzeszcz bus station – direct bus to AmberExpo - line 158
Gdańsk –Wrzeszcz bus station – direct tram to Gdansk Główny Train Station - line 10
http://www.ztm.gda.pl/en/index.php/ztm/more/about
TAXI
Widely-known Neptune Taxi offers the highest-quality passenger transport services to its clients. It is the only company in the Tri-City metropolitan area contracted for providing transport services to passengers of the Gdansk Lech Walesa Airport.
Approx cost from airport to the city center or Amber Expo - 60zł (15 EUR).
Search this logo:



By train
The city is connected to all major cities in Poland with travel times subject to both delay and improvement as a major investment programme continues.
Gdańsk Główny Train Station
ul. Podwale Grodzkie 1, Gdańsk
(+48) 22 39 19 757 (from foreign mobile phones)
When you arrive at Gdańsk Główny you are in the walking distance from Gdansk Old Town, where most hotels are located.
By car
There are three main routes into the Tri-city: the E28 from the west via Gdynia; the E77 from the south-east which enters the city via Gdańsk and the A1 highway from the south.
Parking is available once you arrive in Gdańsk but remember that the old town area is permit parking only and you will be fined by the city police for driving into the old town without a pass. Watch out for the signs marking the start of the permit parking zone. You will have to use street parking which is paid for (3zł for the first hour) and you will need to buy a ticket at the street machine.